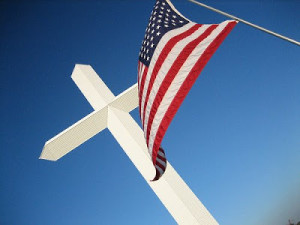 Be aware. At any moment there will be a new battle in the "War on Christmas" breaking out. Be aware. At any moment those tricky Muslim types are going to try to open a recreation center in some city. Be aware. In some state in which public money has been allocated to go to private schools some people from some heathen "religion" (see Jews) are going to request to participate. Be aware. Any time that God lets a Democrat win a presidential election the country is on a pathway to total destruction if not damnation.
Truth: America Has Never Been A "Christian Nation"
Perhaps one of the factors that has provided strength for the country has been the fact that an official religion has never been enshrined into the laws. To date in to documents, not the Bill of Rights or the Constitution has there ever been any exclusive or specific biblical or Christian legal ideology encoded.
What some on the conservative right might find interesting is how the laws that we live by came about. Most of the laws in America are based on English common law, the Constitution, Habeas Corpus Act, and the Bill of Rights. Even scarier these documents draw nothing from biblical ideology for government. In fact looking back these documents draw their inspiration from pagan Greek democracy and Roman law. America's founding fathers also through a bit of philosophy from some such as John Locke, Voltaire, Montesquieu, and Rousseau.
Perhaps knowing Republicans believe that facts, and science have a liberal bias there need to be more proof.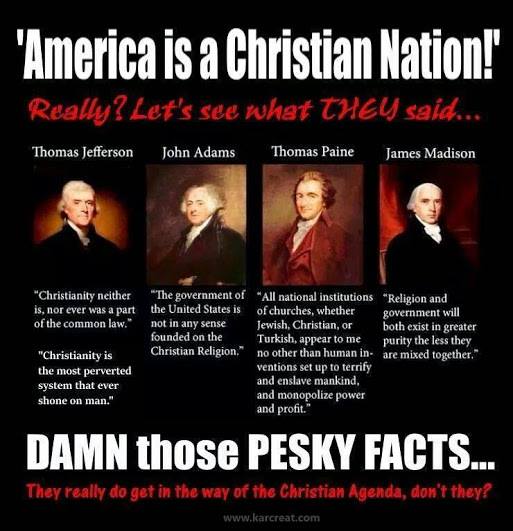 Here is the clincher. The founding fathers that those on the conservative right consider to be the wisest men to perhaps ever to have lived did a terrible job if they meant for the U.S. to be a Christian Nation. Ever noticed that the words Jesus, Christ, or Christian were included nowhere in any of the nations initial documents? How could it be? How could these men from which after over two centuries we must revere screwed up setting into law that American's should live based on Christian ideology.
Those on the left believe the founding fathers were very smart for a different reason. The true genius from the founding fathers was that they knew that they didn't know everything. They knew that putting in place a way to update the laws was necessary so that as men learned from mistakes they could update the laws.
As for religion. The founding fathers turned out to be very smart to create a secular government and society. They put in place measures to make sure that religions would be allowed to freely operate while not being managed by the government.