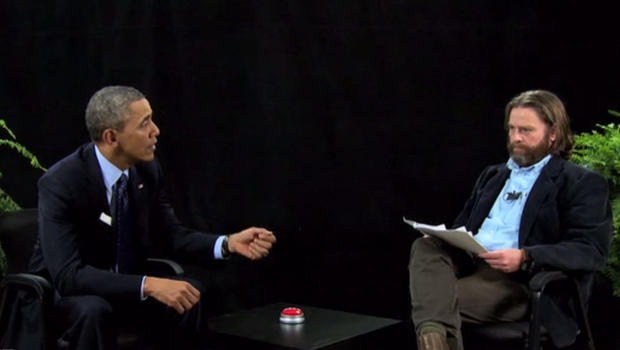 Leave it to Democrats to resort to using internet marketing, digital content marketing, or even <shudder> humor to distribute their propaganda selling Obamacare. On March eleven 2014 President Obama using the comedic talents of Zach Galifanakis used humor in an effort to spread information about how people could get health insurance. Thank goodness there are so many good people on the right who like good Republicans believe there is no room in politics for the use humor to deliver a message.
Check out the Between Two Ferns video below… if you can take it. Then read on to find out what the good Americans at Fox News Network, the Daily Caller, and Laura Ingraham had to say.
President Obama Between Two Ferns
Republicans Fight Back Against Humor
Early out of the gate to fight comedy was Laura Ingraham who Tweeted: "Yeah, presiding over the America'a decline is a knee-slapper. "Obama's New Approach Takes a Humorous Turn"
Great job Laura! Helping to inform Americans that might have never had insurance that they now have the option to get insurance coverage is a terrible idea!
On Fox and Friends hosts Elisabeth Hasselbeck and Brian Kilmeade attacked the Between the Ferns interview as "so inappropriate" and "pretty tragic." Hasselbeck went on to say "Some would argue that it's inappropriate for the president of the United States to be advertising a law, an insurance plan"
One of the things we here at Live Like a Republican love about Fox News is when the hosts say lines such as "some people say" or "some would argue". The Fox hosts never say who these "some" are but we know they exist.
Perhaps one of the best arbitrators of what is funny The Daily Caller also came out making sure  that true Americans know that humor is no way to deliver a message. For sure their declaring the joke about Obama being the last black President provide cover so that we know it is alright to like or even laugh at that part. What the Caller said:
"Turkey pardoning as Obama's biggest accomplishment of 2013? Funny! Saying that Obama is the "last black president?" Hilarious! A birth certificate joke? A classic!
But then about 3:23 in, Obama starts plugging Healthcare.gov. AND OH FOR CRYING OUT LOUD.
It was going so well. It was actually humorous and there didn't seem to be any hidden agenda, but then they had to swoop in there and start trying to get kids these days to sign up for the Affordable Care Act.
Come on"
Of course the truth here is that when a politician is trying to reach a particular audience they go to the places that those people are.  Why wouldn't Obama's team want a large audience to learn about Obamacare? This is why if you wanted baby boomers you would go on to the Jay Leno Tonight Show. If you wanted to get women you went on The View. That is why if want people aged between 75-95 you go on to a prime time show on Fox News. Obama and the White House need younger people to hear about how they can get health insurance. Of course one place to go to is the website Funny or Die. Previous views of the series Between Two Ferns has reach 30 million views. I wonder how many episodes of the Hannity show a politician would have to be on to get that many views?