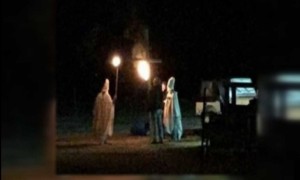 How was your Halloween? Maybe better than that of the mayor of Lahoma Oklahoma, Theresa Sharp. While there can be those that argue that we are moving into a post racial America, or that the #blacklivematter protests are really just those uppity types trying to get special treatment, it is clear that there are still areas in which it is still considered alright to dress in white robes and to burn crosses.
Her husband, Cary Kent Sharp, was among a group of men found dressed in white robes and hoods around a bonfire when a Lahoma, Okla. resident called the police reporting the incident around 10:20 p.m. Saturday October 31st.
Here are a few choice quotes from the Mayor and her husband as they try to apologize for getting caught bad judgement.
From Cary Kent: "Cousin of mine come up with the idea of dressing up, you know, like KKK members and so we took a couple of sheets and cut holes in them and wore sheets. Um, very very poor decision. . . I never realized it would be this harmful. I truly apologize to everyone for this."

From the Mayor: "This was the stupidity and actions of four separate individuals and it does not reflect on me or anybody else in the community."
Not sure we are buying the "didn't realize it would be harmful" bullshit here. Either you are extremely stupid to believe that this action would not be viewed negatively, or you or you think that this is not that bad a way to spend you Saturday nights.
What is more likely is that Cary was with his cousin and other friends and none of them have widened their circle of friends wide enough to include any people who are not racist. So much more likely that it never occurred to these dudes that demonstrating racist behavior was in some way racist.