UPDATED: Trump Now on Vacation
On the Weekend of February 4th 2017, two weeks after becoming President Trump took his first vacation to West Palm. So far there has been no complaints heard from the right wing that was so exasperated every time Obama left the White House. If you see and complaints please share them in the comments section. We'd love to be wrong.
It has been a long couple of weeks for the new President. In a very short amount of time, he has achieved the lowest approval ratings ever for a new President. He has found ways to alienate both liberals and conservatives. He has inspired two different protests that have spread across the entire country. So what does President Trump need the most right now? How about some vacation time!
In a New York Post article titled A Homebody Finds the Ultimate Home Office, Trump is credited with pondering his first break away from the White House, a potential trip to Mar-a-Lago, his private club in Palm Beach, Fla., possibly the weekend of Feb. 3.
Imagine after all the consternation exhibited by Republicans over the last 8 years every time President Obama took a vacation, if the newly sworn in Republican President were to take some time off 14 days after moving into the White House!
Of course, this could be a throw away comment made for a puff piece about moving into the White House. It might be that Trump works harder during his ti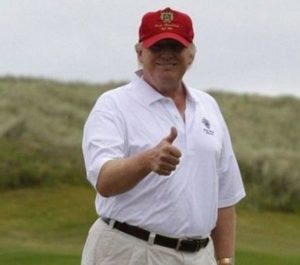 me in office than any previous President. It could also be that President Trump takes the opportunity of being President to visit as many properties that he owns as possible to help increase their value.
Time will tell. The one thing that we are pretty sure of is that it's a safe bet that you will not see articles bashing Trump for taking vacations on Drudge, Breitbart, or even Fox News.