For those in America that believe in the ideology and policy positions put forward by the Republican party this story might make you upset. If a political party's positions are so popular or if their candidates are better options why would that party have to mislead, lie, or trick the public into making donations. That is the question that fans of the Republican party should be asking themselves today. As reported by Think Progress there are a number of pages being published online by the National Republican Congressional Committee that are designed to trick people into making donations to the Republican party instead of Democrats.
Are You Really Donating To A Democrat?
Maybe you are a liberal person. Maybe you like helping Democratic congressional candidates have more money to help their campaigns. What would a person such as this do to make a contribution? Many these days look to the internet to efficiently donate money to the politician that they would like to win. This is one reason that the NRCC is now employing what is at least dishonest at most illegal methods to confuse people into thinking they are contributing to Democrats when in fact the donations are going to the Republican party.
Here are some screen shots that were published on Think Progress. The truly sleazy thing here is the use of the word "for" in some of these pictures. Clearly Republicans are trying to make people think they are donating to the Democratic candidate.
Special Note: We have, under each picture provided the real link if you want to contribute to these Democratic candidates.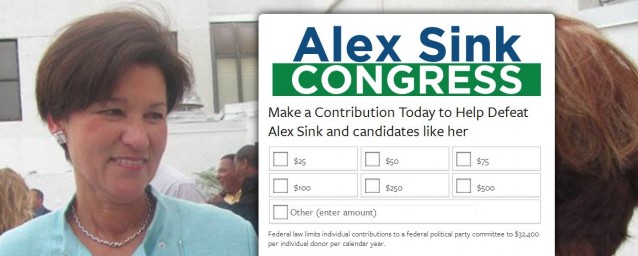 Donate to Alex Sink Campaign – Here

Donate to Kirkpatrick for Congress – Here

Donate to Kyrsten Sinema for Congress – Here

Donate to Martha Robertson for Congress – Here
If Republicans Are Right Why Do They Cheat?
This is the question. Why is that it seems like most of the political messages mass shared on Facebook that are complete bullshit are lies from conservatives? Why do Republicans have to lie about the science of global warming? Why is it that every two or three years there is a new study that proves people who watch no news at all are better informed than people who watch Fox News?
Why is that Republicans decided it was a good move to trick people into giving them money?
Simple reason?
Republicans know that the policies that they propose would not be popular if the voters truly understood the real implications of the proposals. Because of this, the conservatives have gotten so used to misleading voters regarding their policies that it has become second nature to do it now for fund raising.
What is sad here is that Republicans can do this without much fear of getting caught. A few "left wing" sites will publish posts like this one for a few days. You might even see this mentioned for a few seconds on CNN or MSNBC, but this story will not get circulated enough for low information voters to ever hear about it. Because Republicans have scared the "lame street media" into believing that reporting on their lies is proof of a slanted media the "main street media" now will no longer reports these types of stories.
Not sure how voters could trust Republicans to govern Congress or any other political body when they show this kind of ability to be dishonest.