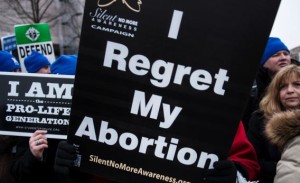 A post just out from National Center for Biotechnology Information, U.S. National Library of Medicine indicates that there are women that come to regret having had abortions. You can read from this ground breaking report here. This study tracked hundreds of women that had abortions. Abortions that were both in the first trimester as well as those that had the procedure after (often called late term abortions). 

For years states that are governed by right thinking Republicans have been putting into place laws meant to protect this class of women.  There are seven states that have mandatory counseling laws that require pregnant women to receive information about abortion's negative psychological consequences before an abortion is allowed. Some states even provide reading material that specifically reference "post abortion traumatic stress syndrome," a "disorder" that is not currently recognized by the American Psychological Association or by the American Psychiatric Association. This type of thinking is what has brought about pictures like these that are found on the internet: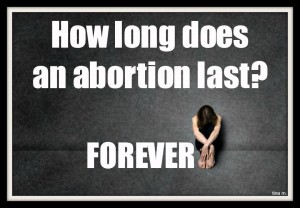 What Percent of Women Regret Their Abortion
So now that there is a new study that has followed hundreds of women to learn if they regret their choice, what were the results?
More than 95 percent of participants reported that ending a pregnancy was the right decision for them!
Turns out women that were terminating planned pregnancies due to health issues were likely to report more negative emotions, and those that were treated to more negative community response also replied more negatively.
Despite this type of thinking over the last 5-10 years it has become increasingly hard for women to avail themselves of constitutionally sanctioned medical services. There have been almost 300 abortion restrictions put into place. It will be interesting to see how this debate moves when politicians learn how abortions are actually perceived by women that have had them.